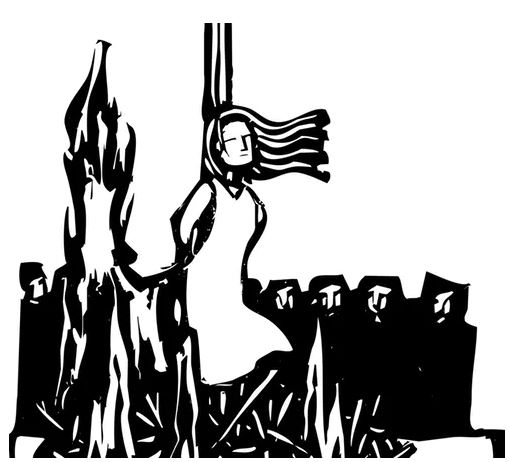 Is this your kind of Democracy? If it is then you should be ashamed of yourself.
Last week President Trump held another rally in Michigan where he downplayed the recent rightwing plot against Governor Gretchen Whitmer to have her kidnapped and killed because of her state lockdown measures aimed at curtailing the coronavirus and saving lives in the state where people are still dying from the poisoned water for profit scheme! (Do Republicans remember that?)
Said our President: "You've got to get your governor to open up your state, OK? And get your schools open! Get your schools open! The schools have to be open, right?"
"Lock her up! Lock her up!" his supporters chanted in response.
"Lock them all up," President Trump answered.
And of course his crowd of angry, (P)syco-phantic inquisitors who adore our President as if he were the reincarnated Torquemada made whole in the 21st century, just so they could lasciviously witness the torture and imprisonment of all who disagree, look differently or believe differently than they do, cheered him on.
And yet just Forty minutes later President Trump's Saturday night rally ended with The President (a most recent survivor of the coronavirus who contracted the disease along with his family and many friends through ALL fault of his own) once again railing against Michigan's lockdown measures and sparking the crowd to resume the "lock her up" chants…
AS THOUGH THEY WERE ALL PART OF SOME GRAND REENACTMENT OF THE SALEM WITCH TRIALS…A FONDLY REMEMBERED PASSION PLAY OF PSYCHO-SEXUAL JOY BROUGHT BACK TO LIFE!
Lara Trump, the president's daughter-in-law, senior campaign adviser, and woman who doesn't seem to mind other women being treated like second class citizens later said "He wasn't doing anything, I don't think, to provoke people to threaten this woman at all. He was having fun at a Trump rally," and added "Look, the president was at a rally. It's a fun, light atmosphere. Of course, he wasn't doing anything to threaten this woman. That's ridiculous."
Sure…it was just all in good fun. What's more fun than accusing your rivals and competitors and fellow elected officials, Americans all, of being criminals who should be locked up just on your say so, without evidence of a crime or of any wrongdoing whatsoever?
Kamala Harris is nasty! Lock her up! Hillary wrote emails, the contents of which we actually no nothing about! Lock her up! That woman is not someone that I find attractive enough to consider dating. Lock her up! I believe that woman is not a Christian! Lock her up!
That's America? If that is your idea of America then you should leave because the country you're pining for is the country(s) that our founding fathers fled from 400 years ago!
You have forgotten what this country stands for and represents to the world…and so has our president. Shame on all who attend rallies that celebrate fear, hate and greed! That is not what greatness is made of… nor has it ever represented nor will it ever represent the power and glory of anything good that ever resided in Heaven or on the Earth…