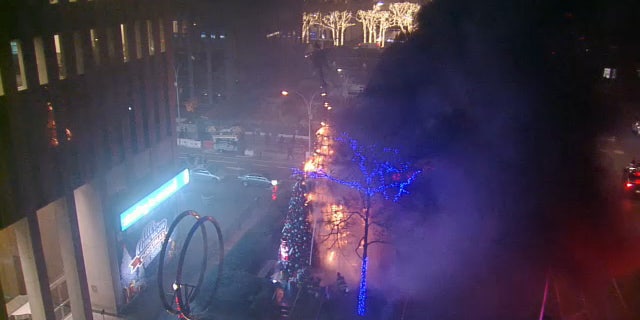 Last week The Fox News' "All American Christmas Tree" was assassinated by a homeless man who may or may not have set it on fire for a reason, or not, but if you are a Fox News lover then you know that it was a Liberal Democratic plot to destroy America, Christmas, Jesus and Love…because if you like to watch a lot of Fox News you know that that's what we Liberal Democrats hate most about America.
But not to worry because Fox News, in the best traditions of wealth, went out and spent another 500 thousand dollars (yes that's right: Half a million dollars) to replace what could be the most garish (and flammable) symbol of the Christmas season that I have ever seen.
They then proceeded to label the alleged perpetrator as the worst Scrooge in the history of Scrooges! Because what says Scrooge better than a homeless and penniless man allegedly setting fire to half a million dollars of plastic and aluminum? Only to see it replaced by another half a million dollars of plastic and aluminum?
That's like Fox News, (Scrooge) calling Bob Cratchit, Scrooge because Bob is poor and can't appreciate a rich man, (Scrooge), enjoying his riches like a poor man should…or something like that.
In any case let us not forget that this is the same Fox News that has spent the last year trying to explain how a bunch of crazy, mad, clueless Trump Supporters who tried to take over the United States Capitol and kill all of the statesmen inside (at least most of them) were just tourists on vacation who were admiring the Nation's scenery…and what's the harm in that?
You can watch the link below to see for yourself just how much Fox News believes in their own self importance rather than having any respect for the law, the United States, Bob Cratchit, Tiny Tim, Santa Claus, Uncle Sam, Christmas and/or you and me.
https://www.cnn.com/videos/business/2021/12/09/fox-news-coverage-christmas-tree-arson-outrage-brianna-keilar-roll-the-tape-newday-vpx.cnn/video/playlists/stories-worth-watching/