Somewhere out in the great beyond President Jefferson Davis and General Robert E. Lee are smiling. It may have taken 160 years but the U.S. Capitol, home of those Damned Dirty Yankees, has finally fallen! For yesterday, January 6th, 2021 another American date that will live in infamy (and infancy…as in tantrum) our Capitol building in Washington D.C. was attacked, captured and desecrated by the Confederacy… of Dunces.
It didn't take very long, just a few pushes and shoves, broken windows, fireworks and Confederate flags flown high and the Republican mob was up Capitol Hill and over the Union's defenses and into the Capital Building's domed lobbies, sacred offices and grand legislative chambers.
The insurgents broke windows, started fires, trashed offices and occupied the building with little resistance from the Capitol Police who seemed flustered and confused over how to stop an angry, well armed white mob composed mostly of middle aged ladies in mom jeans and mostly bearded men flaunting their finest hillbilly chic sportswear and work boots.
Our Nation's National Emblem, The Capitol Building, was in no way defended. There were no teargas canisters deployed, nor rubber bullets fired, nor any sign of heavily armored policemen to thwart the mob's assault or stand in its way. Our country's Vice President, and Congressmen and Women, who were inside the building fled in panic or cowered beneath their desks, taken completely by surprise even though they had been warned time and time again by our own President, most of his entourage and scores of elected Congressmen and women, that he would be avenged (most likely with violence) for his election loss.
In fact, only a few minutes before the attack, at a rally near the White House, President Trump and his son Donald Jr. along with trusted lawyer and friend, Rudy Giuliani, exhorted their adoring crowd of sycophantic psychos that it would take strength and not weakness to reclaim their country!
"We will never give up. We will never concede," Trump told the attendees outside the White House, who cheered him on. "We will stop the steal!" (The election was stolen from him because more people voted against him than for him…and besides as any redneck ninny knows, the only real way to tell if an election held in the USA isn't rigged is if the Republican candidate wins)
And so off they went, onwards to the Capitol Building of the United States of America! And in a most embarrassing and startling turn of events, captured it with ease…and the Confederacy of Trump was born! They broke and entered! Came, Saw… and Conquered!
The angry mob even Took photos and selfies with some smiling law enforcement? officers? And were even saluted by the Junior Senator from Missouri (seen below raising his fist in a show of white power) as they went about their business of pillaging, desecrating and mocking The Union that had once defeated them in war back in 1865.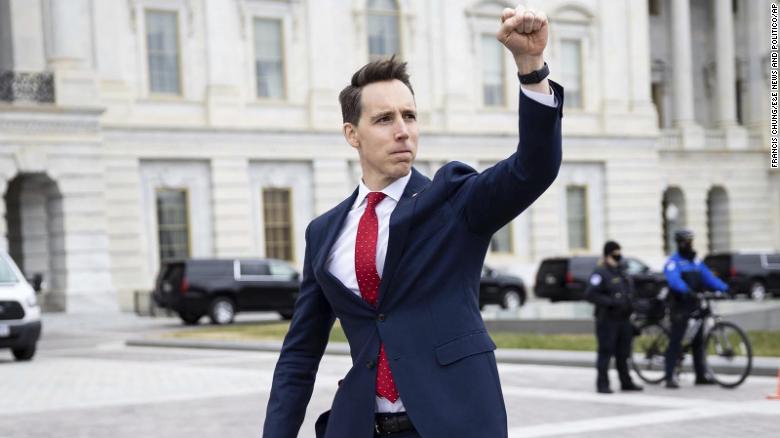 All in all the insurrection seemed like Great, White, American fun! Yes, some were arrested (52) and some were killed (4) but when you figure it out as a percentage of the thousands who stormed the barricades (spoiler alert: there weren't any barricades) it's positively insignificant! (just like Covid-19) It was the most complete and swift victory ever accomplished by Confederate forces on American soil!
And when the President was appealed to and called upon to do something! anything! in defense of our Great Nation to help stop the rioting and to defend our Revered Constitution and intervene in this most violent insurrection… he took immediate action…and tweeted!!! (The tweet heard round the world?)
"You have to go home now…he said. We have to have peace." and he added…"I know your pain. I know you're hurt. We had an election that was stolen from us. It was a landslide election and everyone knows it. Especially the other side. But you have to go home now," Trump said.
He also added, and I paraphrase here because most of those tweets and videos have been deleted from the internet, (evidence of treason?) that he knows what it's like to be a poor Confederate who loses when he should win and who doesn't get what he wants when he wants it and who is persecuted by those who won't give him what he wants…
He went on…
(And now I quote again) "These are the things and events that happen (the attempted over throw of Democracy?) when a sacred (?) landslide election victory (huh?) is so unceremoniously and viciously stripped away (by counting the voters votes?) from great patriots (He is calling the Confederate insurrectionists great patriots!) who have been badly & unfairly treated for so long, (Since the Civil War?) So go home. We love you. (He loves those who stormed the Capitol?) You're very special. (because they did it for him?)
"It's a very tough period of time," he added. "But we can't play into the hands of these people. (Americans? The Union? Those Citizens who didn't vote for him?) who he went on to characterize as "so so bad and so so evil"! (If you didn't vote for him you are evil…it's THAT simple?) 330 million citizens – 74 million Trump voters leaves @ 256 Evil Americans! That's a lot of evil Americans! No wonder most Republicans find so much fault with America…and Americans.
Ah well…and so when it got dark they were asked to leave and they left: these Haters of Democracy…these Champions of evil… rooting out of!…these Overthrowers of elections…not winning!… These Crackers of… where's my cream cheese!
And they suffered No consequences…No bullets in the back as they retreated…No kneels to the backs of their necks as they gasped desperately in defense of their innocence…No hours long interrogations or confession signings… nope, nada. It's as though they all had Presidential PBA Cards! It's so good to know someone important isn't it? It's just so good to be so white and so right in America… isn't it?
But what happens now? President Trump still has 2 full weeks to wield his scepter of seemingly unlimited influence and control over his mutineer minions. He still maintains that he has been wronged, swindled and unfairly toppled from his rightful throne. … and his confederated zealots, fresh from victory agree. And both have sworn to never give up their fight to restore him to his most lofty latrine of power.
One commentator offered a suggestion as to why all of this was happening: "The president just doesn't know how to accept losing" he said… But I say that our President just doesn't know how to accept America… and never has…nor do his followers.
So what happens now? Will this republican mob make another coordinated attack before or during the inauguration of President-elect Biden? Will President Trump have already pardoned himself before they do so? Will the insurgents be carrying Presidential pardons in their pockets too… thus having been made an invulnerable, un-prosecutable, monster mob of President Trump's self righteous Id?
Holy Psyche Batman!
Who will stand up to this disparagement of Democracy? Will only the crack of doom cancel this shit show? Maybe President Trump will leave office peacefully, only to retire to Florida to live in Ex-presidential exile where he will then take to the airwaves as a prognosticating naysayer of all things not to his liking?… His family squabbling on Twitter, Facebook and Instagram as a veritable Duck Dynasty of Doomsday Drivel and Despair?
Will we all be subjected to a daily soundtrack of American mockery…without reprieve nor end, from a self pardoned President and his brood awaiting their return to power?
Stay tuned America! Same Trump time! Same Trump channel!