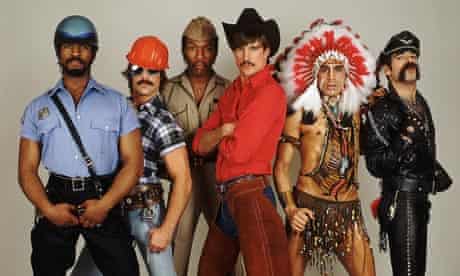 …And now I have HEARD everything!
President Trump, Ole Number 45, made his farewell address this morning. After 4 long years (feels like longer than 4) it is finally over (is it really?) The greatest (worst) President in the history of the United States (unfortunately history is not over) has said goodbye to his adoring (psyco-phantic) friends, family… and fans (cult). He listed his many (few) accomplishments (things he said he did) and then waved goodbye. And then, as he prepared to walk off (helicopter) into the sunset (sunrise) we inexplicably heard this…
Young man there's no need to feel down. Pick yourself off the ground 'cause your in a new town. There's no need to be unhappy. There's a place you can go. When you're short on your dough, you can stay there and I'm sure you will find many ways to have a good time. It's fun to stay at the Y.M.C.A.!

Why? Well because They have everything For young men to enjoy. You can hang out with all the boys. You can get yourself clean. You can have a good meal. You can do whatever you feel. Are you listening to me? What do you want to be? You can make real your dreams, but you've got to know this one thing. It's fun to stay at the Y.M.C.A.!
Just remember: No man, does it all by himself. Put your pride on the shelf and just go there, to the Y.M.C.A. I'm sure they can help you today because I was once in your shoes. I was down and out with the blues. I felt, no man cared if I were alive. I felt the whole world was so jive!…
and that's when someone came up to me and said young man take a walk up the street. There's a place there called the Y.M.C.A. They can start you back on your way. It's fun to stay at the Y.M.C.A.!
Who Knew?! After all of this time, tribulation and frustration, all President Trump really wanted to do was have a good time and go back to hanging out with all the boys! Because, After all is said and done…Who has everything for a young man to enjoy? The Mar-a-Lago Y.M.C.A. …of course!
So Good Luck President Trump! It's time now to leave this jive world behind and go Hang out with all the boys and enjoy yourself. If you see Vice President Pence please tell him I said hello. (I don't think he wants to hang out with all the boys though) And give my condolences to the First Lady. (not one of the boys)
And now we say Goodbye! Farewell! and may this nightmare of a presidential reality show finally be…
CANCELLED!
Oh My God! I forgot about syndication!!!!
Noooooooooooooooooooooooooooooooooooooooooooooooooooooooooooooooooooooooooooooooooooo