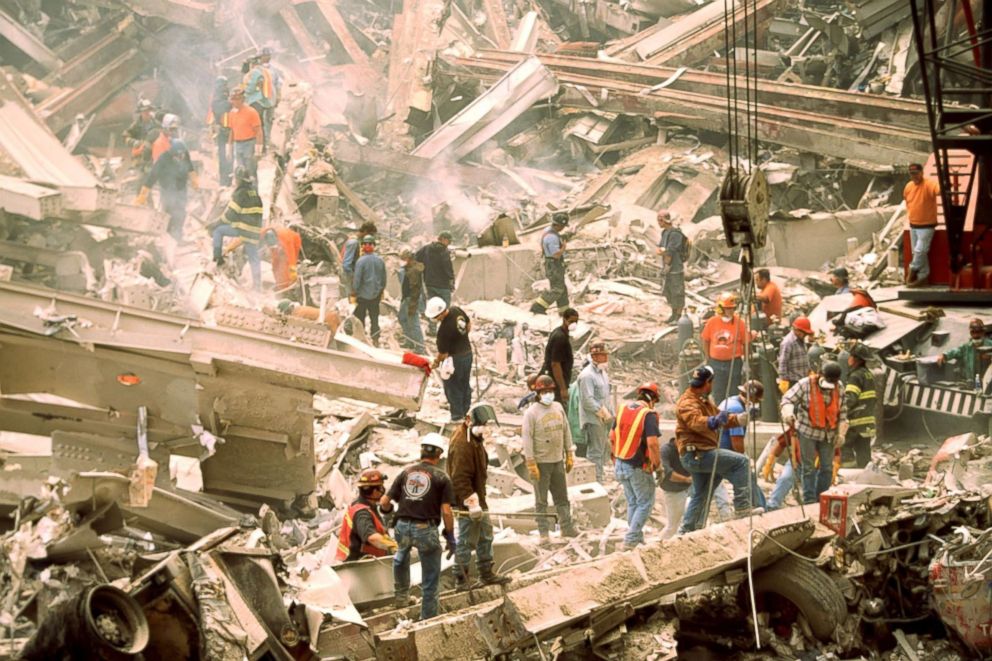 This past month, President Trump has been making a major push to reopen parts of the country as he spoke with the nation's governors and announced new and possibly eased guidelines for some states to begin relaxing their Corona Virus restrictions.
"Encouraging developments have put us in a very strong position to finalize guidelines for states on reopening the country," The President said, even as the U.S. death toll from the Covid19 pandemic  topped 85,000.
But does anyone remember what happened in the aftermath of the horrific terrorist attacks in New York City on September 11th, 2001? The collapse of the trade center's twin towers produced thick dust clouds, and fires burned for months in the rubble.
But only a few days after terrorists brought down the World Trade Center towers, the Environmental Protection Agency (EPA) announced that the air was safe to breathe, but that proved to be a dangerously optimistic assessment because only two years later, EPA's Office of the Inspector General  reported that the EPA "did not have sufficient data and analyses to make such a blanket statement," as "air monitoring data was lacking for several pollutants of concern."
What the The OIG also discovered was that President Bush's White House Council on Environmental Quality significantly revised EPA press releases "to add reassuring statements and delete cautionary ones." Kind of like exactly what's going on in the Trump White House now.
It was New Jersey's former Governor Christie Whitman, who in 2001 was the Administrator of the EPA, who cleared the way for workers to begin clearing the rubble and debris only a few days after the towers fell by assuring workers and first-responders that the air was OK to breath but later samples showed asbestos levels at that time were between double and triple the EPA's danger limit.
And While the EPA pointed to its recommendations that workers and volunteers on site take precautions such as using respirators, OIG said "EPA's basic overriding message was that the public did not need to be concerned about airborne contaminants."
In 2008 a circuit court of appeals ruled that Whitman could not be held personally liable for any of her statements of reassurance about Ground Zero air quality which overruled a District Court judge who in 2006 called Whitman's actions "shocking"!
In a 2016 interview Whitman said, "I'm very sorry that people are sick. I'm very sorry that people are dying and if the EPA and I in any way contributed to that, I'm sorry. We did the very best we could at the time with the knowledge we had."
Whitman said she never lied but was not aware at the time of the dangerous pollutants in the air even though in the days and weeks after the attacks, Whitman told New Yorkers that the air was safe to breathe and the water was safe to drink. She did however, advise those working directly at the site of the World Trade Center wreckage to wear respirators.
As a result of that 9/11 all clear pronouncement many rescue and recovery workers later developed respiratory and digestive system ailments potentially linked to inhaled and swallowed dust. Some were diagnosed with other illnesses, including cancer…but researchers have noted more deaths than expected from brain cancer, non-Hodgkin's lymphoma and certain other diseases like an unusual number of suicides among rescue and recovery workers.
Almost 3,000 people were killed in the terrorist attack on the Twin Towers. Yet over 51,000 people including firefighters, police and others died or fell ill after exposure to toxins unleashed in that wreckage…and more are still dying…and the final death toll is still climbing 19 years later.
Today, another Christie from New Jersey and former Governor, Chris Christie, says that we should put the Covid 19 virus in perspective and go out there and open up the country  in order to save the economy. "There are going to be deaths no matter what.  The American people have gone through significant death before. We've sacrificed lives before and in the very same way now, we have to stand up for the American way of life."
I don't know why it always seems to be a former governor from New Jersey but…just remember!
Our politicians are not the experts. The experts are the experts. And if this pandemic isn't over and we get back to normal too fast and too soon and many more deaths follow, you will hear the politicians say, "We were not experts so don't blame us!" And the courts will agree and the experts will be silenced (for an appropriate time) and all of us will be held responsible for our own actions, should anything "mortal" happen to us.
Maybe you'll get a monument somewhere commemorating your (not individual)  "sacrifice". Or an outpouring of thoughts and prayers…but you can bet that the majority of you will be poor or middle class working stiffs who thought you had the all clear, or who really couldn't have done anything about it anyway because you needed the money and had bills to pay.
Wealthy folks will be just fine. Remember my post about how it will be safe when you see the wealthy athletes gathering together. They will know best because they are worth fortunes and will want to protect that. They are wealthy enough to defy their bosses. They have access to unlimited testing and healthcare. They have direct access to experts and expert advice.
So wear your masks. Be careful. Avoid crowds and crowded spaces. Try not to visit nursing homes or hospitals and do your best to avoid being sent there. They are going to need new patients/residents you know. (It's just business, not personal) but I have a bad feeling that nursing homes are going to become the preferred transfer areas for hospital Covid-19 patients… after they have been cleaned and sterilized…yeah right?
Don't do anything you don't have to do. Avoid poverty, the poor and the places where poor people gather or serve you. (unless of course, that's you)…I know it sounds cruel… but it's a cruel world. Beautiful, yes, but cruel none the less.
And if you are a grandparent then beware the opening of school, especially if you are the prime caregiver when your adult children are at work. The virus doesn't affect kids as badly as it does adults…but they will carry it home to you and you are the most vulnerable of all.
On the bright side, even if 150,000 Americans die from this virus that would give you only a .0003 chance of dying from it yourself. That's only 5 times more than your chance of being shot by another American with a gun. So to put it in our "American way of life" terms: (or as NJ's two Christies might say)
what are you so worried about?
I wish us all peace, health and prosperity in the coming months ahead…and may the force be with us. We'll soon be on our own again. Live long and prosper… as best you can.