The Kansas City Chiefs just won the Super Bowl! And they're going to…Kansas?
Well, no…but that's where the President of the United States thinks they're from, as you can see from his congratulatory tweet following the big game and the Chief's victory.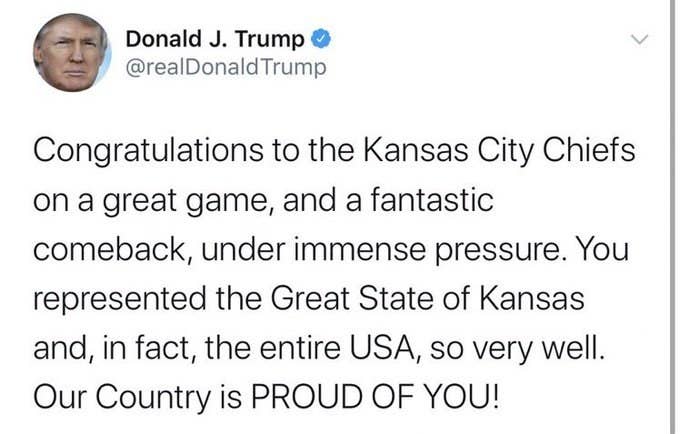 He has since deleted the tweet because even though there is a Kansas City in Kansas, that's not the Kansas City where the Kansas City Chiefs play. They play in the Kansas City that is in Missouri. And as you can imagine he took a lot of criticism for not knowing the difference.
But that's an honest mistake isn't it? After all, did you know where Kansas City was? Or that there were 2 Kansas City(s)…one in Missouri and the other in Kansas? And that the Missouri Kansas City was the BIG Kansas City where the sports teams play?
Well, maybe if you're a child and didn't pay attention in school or don't pay attention to sports or geography or you just aren't curious about such things but what if you're a grown adult in your 70's and… PRESIDENT OF THE UNITED STATES???
Hey, anybody can make a mistake. Right? President Trump has since deleted his tweet and replaced it with an accurate one that congratulates Missouri and even though he looked silly and took a lot of flack for being so uninformed a lot of folks came to his defense like Fox and Friends who said that mixing up the 2 Kansas Citys was like congratulating New Jersey when The New York Giants win and even the Kansas House read his tweet aloud in their chambers and applauded his official and Presidential congratulations to Kansas, for as the Governor of Kansas (a Democrat) said, "We root for the Chiefs too!"
And Matt Schlapp, the chairman of the American Conservative Union had this to say when he tweeted:
Dear East coast establishment: Kansas City, Kansas is in Kansas.
But what bothers me is that now I'm supposedly part of the "East Coast Establishment",
because I dare to know things…and at times correct others who don't…and verifiable
facts are important to me. And here in the 21st century that makes me an elitist, liberal,
who do I think I am, know it all.
So be it.
But what bothers me most is that our President is a man who says that he does know it
all. He is someone who likes to point out everyone's flaws and he mocks them for having
them. He condemns those he disagrees with. He publicly speculates on whose souls he
believes rot in hell or are exalted in heaven. He defends himself by ordering others to
proclaim that he is right even when he knows that they know that he is wrong…
and those are all things that all of us were taught…once upon a time…were wrong. I believe they still are.
In conclusion, here is a video from the Super Bowl party attended by President Trump during the playing of our country's National Anthem. The Anthem about which our President proclaimed every American "should stand proudly for" when played, otherwise they should forever be branded a "son-of-a-bitch" unworthy of employment in any respectable American enterprise.
https://www.miamiherald.com/news/politics-government/article239918518.html
So I propose that in the future should you decide that you have a grievance or complaint or injustice that you would like to protest during the playing of our National Anthem don't kneel or sit or even remain silent. Rather I propose that you simply do the right thing and act as respectfully as our POTUS acts during this most solemn of anthems.
Wave your arms wildly and grandly in the air as any amateur conductor would. Then point to your friends (or foes) with your finger guns to emphasize that you are here and proud and should be paid attention to. Then shuffle about as though you have ants in your pants and can't be stilled because there are more important things to be worried about besides anthems.
You know…shake your sillies out…and simply act…Presidential!
That should get you some attention for your cause…without having to upset people by being all establishment and East Coast elitist like.
Yes, It's always good to be the king! So maybe we should just start emulating him whenever we need to get our point across to his adoring subjects?