The First Family of the United States of America really is quite something to behold. Here is the President's son, Donald Junior, posting a selfie of himself with one of his favorite guns.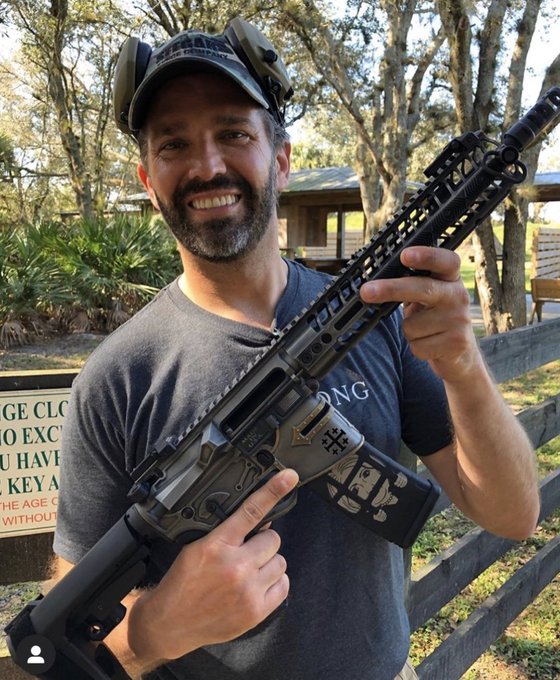 Notice how he has decorated it! Here's a close up look in case you haven't seen this on the news, or twitter, or Instagram, or FOX News or wherever…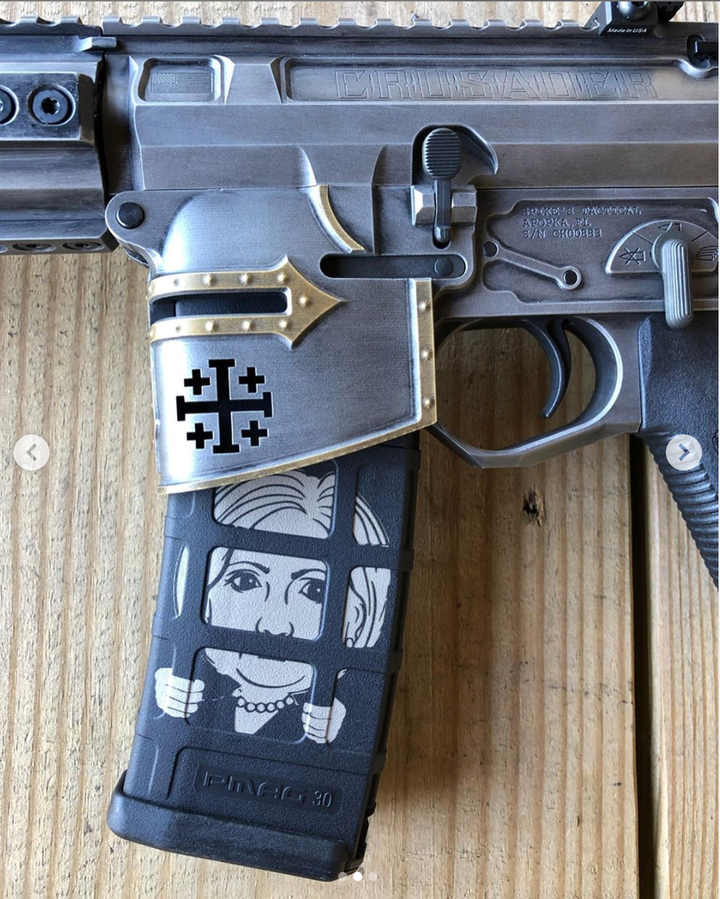 The magazine of his decorated AR-15 shows the former Democratic presidential nominee, Hillary Clinton behind bars ― because, as all Trump supporters agree, she should be locked up… like all Democrats…or at least in Hell.  And this particular weapon is called the "Crusader". Notice also the Christian soldier's helmet and the Jerusalem cross adorning the trigger…
Is that because we are currently engaged in a Holy War between Christianity and Islam?…or maybe because we would like to be?… Or because the President's and his son and this administration would all like to be?…
In any case, when will the Trumps and their supporters give up their own personal holy war against Hillary Clinton and the 65 million or so Americans who voted for her?
Did you know that a Justice Department inquiry (another one) launched more than two years ago at the behest of newly elected President Trump, has recently ended with no tangible results (again)! And this one authorized DOJ attorneys to investigate the Clinton Foundation, the Uranium One sale and of course those Emails.
And still no wrongdoing on the part of Hillary Clinton or any other Clintons has been found. So that make 9 Congressional inquiries, The FBI investigation, and the Department of Justice investigation all at a cost of untold millions of dollars…and all for nothing.
But still every President Trump Hate Rally ends with "Lock Her Up!"
Meanwhile: Our President Trump has admitted in a court of law to using his charity, The Trump Foundation, to bolster his campaign and settle business debts (rather than, you know,  for…charity) and so he has paid $2 million to eight charities as part of a settlement in which he admitted he misused funds raised by the Donald J. Trump Foundation in order to promote his presidential bid and pay off business debts.
And he admitted to using the foundation's money to settle obligations of some of his for-profit companies, including a golf club in Westchester County, N.Y., and Mar-a-Lago, his private club in Florida which he frequently visits…now at tax payer expense! And he admitted that the foundation had given his presidential campaign control over 2.8 million dollars that the foundation had raised at a veterans fund-raiser in Iowa in January 2016… and President Trump acknowledged the fund-raiser was in fact a campaign event.
And my favorite part of the story is this: As part of the settlement, President Trump's three children who were officers of the foundation — Eric Trump, Donald Trump Jr. and Ivanka Trump — were ordered to undergo mandatory training to ensure they do not engage in similar misconduct in the future.
Because, I guess, how were these 3 brilliant young children of perhaps the smartest most intelligent father in the world to know that charitable funds were only supposed to be spent on charities?!…And that was the sum total of all of their punishment for stealing from their own charitable foundation: Pay back the money stolen and go to school to learn why it was wrong.
I have a neighbor who "misappropriated" 250,000 dollars from the local little league fund that he helped administer and he did 6 months in jail, plus the payback etc…and our former school Superintendent misdirected taxpayer funds for his own personal benefit and he is serving 11 years in prison for public corruption and tax evasion charges.
And yet, while the President's son and The President himself continue to call for the incarceration of Hillary Clinton, even after years of personally seeing to her investigation and finding no evidence of any crimes… and in a country that prides itself on the just application of the rule of law… they confess to and settle out of court, crimes that they have committed themselves.
Meanwhile: The judge in President Trump's case ruled that the President will be allowed to write off his restitution payments as charitable contributions in his future tax filings! Now THAT is truly…
unbelievable!