I received this add in my Email the other day from a website known as keepandbear.com…perhaps you've heard of it? Apparently their newest "toy" has been removed from their website by what they call a "large overseas toy company with deep pockets and lawyers" (Could it be Lego?)
And they have been threatened with a "devastating lawsuit"  (could it be because their toy is a rip off of Lego?) and finally even Facebook terminated their advertising account! (is that because Lego has a copyright on its blocks?)
And of course it is all a leftist, liberal conspiracy (trying to keep the toy wall from being built since the real wall has been terminated?) and an attempt to prevent maga children everywhere from building a miniature wall of their own while fantasizing no doubt about keeping fiendish immigrants away from themselves.
But don't despair because they have set up a temporary on-line store for you to find and where you can purchase the "Build the Wall" play-set. It's on sale for 30 bucks ($29.95) if you act now! And don't just buy 1 buy 2 or 3! It's certain to become a collector's item. (I have no doubt about that!) They even have a GoFundMe page!
There are 101 pieces! Looks like it comes with 1 black base, 1 miniature President Trump, and 99 gray pieces of wall! (No illegal aliens included…miniatures, that is) So hurry! While supplies last! (I included the link if you'd like to check it out for yourself) It looks like a great imaginative toy for the inquisitive child who "just wants to build a big gray wall" and nothing else…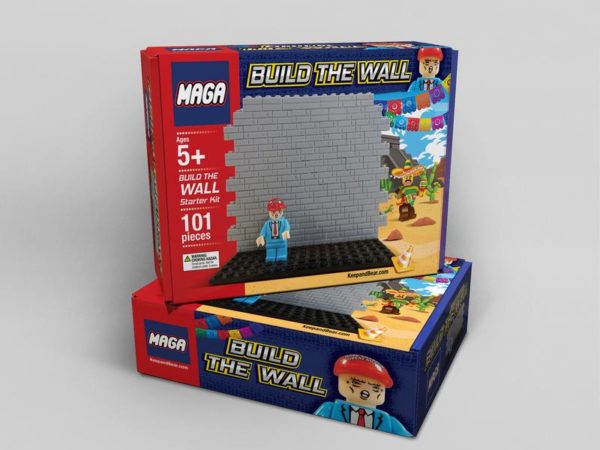 https://magafun.com/product/pre-order-build-the-wall-maga-building-blocks-toy/
I also included this T-shirt that's also on sale (they have lots of Tees for you to peruse) because it just seems so apropos of the Trump supporter. Heaven has strict immigration policies? And a wall? (where is that written?) So I can't even sneak in? Damn it!
Why is it that I have no doubt that all Trump voters believe that they already have their ticket to Heaven punched because they voted for the man that they believe is the Second coming of Christ? (BTW I recently saw the Reverend Franklin Graham being interviewed on MSNBC and he stated that he had absolutely no knowledge of President Trump ever telling a lie!…I kid you not) Their Heaven just sounds too easy to me. How about you?