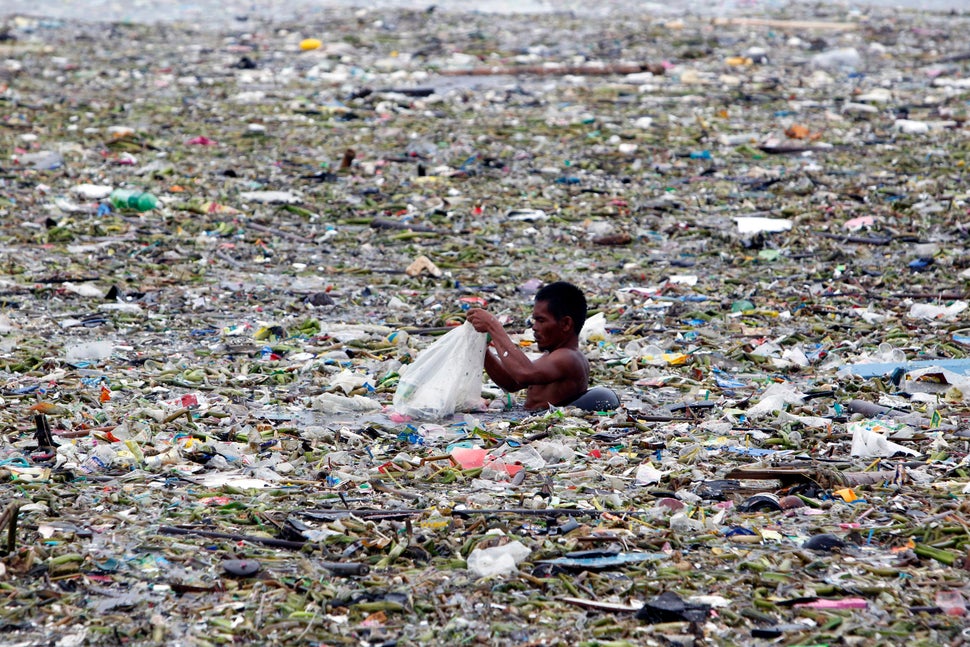 PLASTICS! PLASTICS! PLASTICS!
A new report published by researchers based in the Netherlands using a fleet of boats and aircraft to scan the "Great Pacific Garbage Patch" found an astonishing build-up of plastic waste even more massive than previously reported. They found a total of 80,000 tonnes of buoyant plastic that is now bigger than France, Germany and Spain combined… and it's growing rapidly!
In addition they found that this "plastic dump" located between Hawaii and California, now contains around 1.8 trillion pieces of plastic, including Microplastics, which are tiny fragments of plastic smaller than 50mm in size which can enter the food chain when swallowed by fish. The pollutants they contain become more concentrated as they work their way up through the food web, all the way to top level predators such as sharks, seals and polar bears.
The Ocean Cleanup project, which carried out the study, says eight million tonnes of plastics enter the oceans every year, much of which has accumulated in five giant garbage patches around the planet.
And in another recent study 259 water bottles from 11 brands sold across nine countries, including the United States, were tested and found that 93% contained micro-plastic contamination. The research, found an average of 10.4 plastic particles per liter of water, which is twice the amount of contamination found in tap water. So…if you are drinking water that you are buying in plastic bottles because you believe it is safer or purer than your tap water from the faucet in your home…you're wrong!
Unless of course, you are trying to get more vitamin-P into your diet!
But it gets worse! (How is that possible?) because researchers who tested tap water from around the world found that more than 80% of the samples contained microscopic-sized plastic fibers and the contamination is particularly high in the United States, where 94% of faucet water is affected, including in samples from the U.S. Capitol and the headquarters of the Environmental Protection Agency…of all places!
So now you can go back to your plastic bottles (that didn't take long) I guess because in the USA it's 94 tap-93 bottle and this is one score where more is not better…unless you live in India and/or Lebanon where the highest rates of tap water contamination were found.
And how did we get into this plastic mess in the first place? It was cheaper of course than glass which was so passe anyway and heavier to carry and didn't make that fun crinkly sound when you were all finished and glass had to always be saved and recycled…which by the way we do now with plastics.
Ah well, on the bright side (?) in the not so distant future we won't have to use up more of the Earth's space by burying one another after we have passed. We can just dump our dearly departed and mostly plastic loved ones into the trash bin…and have them recycled too!
And Perhaps in a thousands or two more years aliens will fly by our lonely orb and wonder how a plastic planet with a non-plastic moon found its way into the middle of our solar system…a cheap trinket in an otherwise priceless universe?