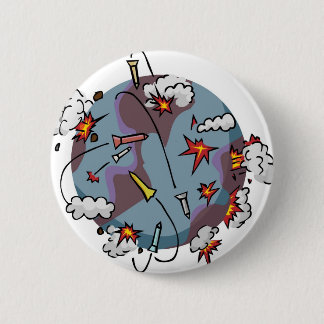 President Trump recently declared Jerusalem to be the capital of Israel, bringing much chagrin to many countries around the world…but not to Christian Fundamentalists, who see this as a prelude to the end of the world!
But don't worry. Rather cry Huzzah! Because if you are a Christian Fundamentalist it means that the end of the world is a good thing and that soon, perhaps even sooner than we all thought, Jesus shall return to rule supreme once again…maybe even in time for Christmas!
Many Christians interpret Bible prophecy to be symbolic of the progression of the world toward the "great day of God, the Almighty" in which God's just and holy wrath is poured out against unrepentant sinners, (like us? Them?) led by Satan, in a literal end-of-the-world confrontation. And it's supposed to take place in and around Jerusalem, Israel and the Middle East.
And why shouldn't it all be happening now? After all is our President not doing his best to please his base supporters and only those supporters? Many of whom are Christian Fundamentalists and also ardent Trump supporters and campaign contributors.
President Trump has been dismantling regulations, under-manning and under-funding key government departments like the State Department, placing unqualified supporters to head other key agencies like the Departments of Education, Environment, and Energy. His isolationist policies have insulted our allies and frightened our enemies bringing us to what many fear is the brink of nuclear war with North Korea.
And his very devout administration has been promoting other policies such as:
1. We don't need to take care of the earth.
2. Going to war in the Middle East is a good thing.
3. We don't really need to educate our children.
4. We don't have to take care of the poor.
So what's so wrong about all of that?… Why fret about what's going on here on the insignificant Earth?…if you are a devout fundamentalist Christian evangelical  thinker then the Rapture should begin soon and you will be whisked away to join with Jesus in the sky. Everyone will be there! Cotton Mather, Kirk Cameron, Roy Moore, Sean Hannity, Hal Lindsey, and 41% of all American Christians! (according to the Pew Research Group) believe that they will be there too!
So let's all cry Whoopee and Merry Christmas this year!… And shop till we drop then party like it's 1999, or Armageddon, or the end of the world (as we know it). Because it's the most wonderful time… of the Tribulation!
And may God bless us all, everyone!…(well, you know, not everyone…wink, wink)