I was recently reading an article about women and the Islamic culture and came across the word Burqini, which I had never heard or seen before, but I was intrigued and like any curious male just had to see what one looked like. Was it a sexy version of the more popular burqa? Oh yes, it was! Just take a look…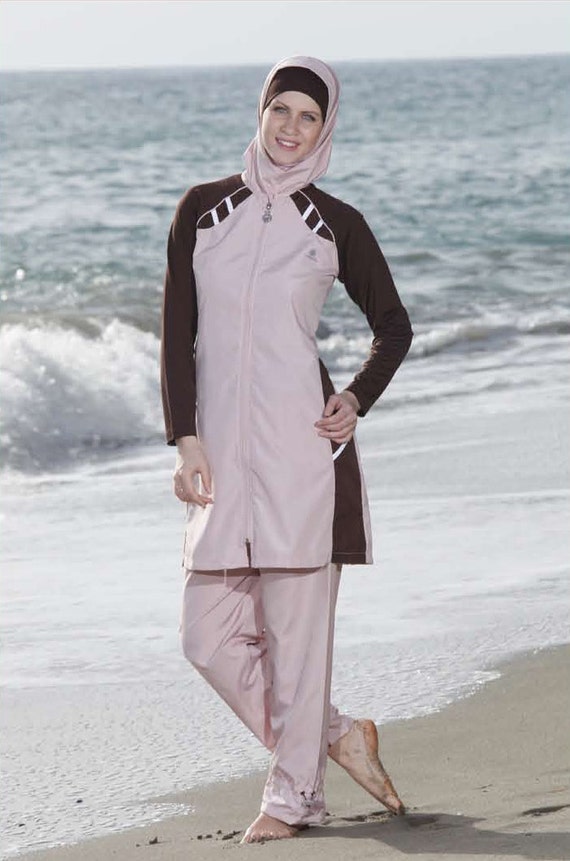 It's described as: "A high quality ladies swimwear for Muslim, Hindu, and Jewish women. A four-piece swim wear with separate cap and hijab to the top. This fine piece of clothing also consists of long sleeves and a long trouser, that has a band attached to the end to prevent it from flowing backwards, preserving modesty." Which led me to thinking:
Wow! Is this a style of swimwear that women developed themselves for a fun and relaxing day at the beach? It looks to me like a wet-suit sans scuba gear, more suitable for underwater than on top of the water…let alone on top of the sand, in the hot sun, on a warm summer's day, (and it even comes with straps and tie downs just in case a wave comes by and exposes your…I'm sorry but I have absolutely no idea what could possibly cause this garment to expose anything)…but what do I know about women? I'm just a man. Which led me to thinking:
What's the matter with men?! And why do we do such horrible things to women in the name of God? For the design of the burqini is intended to comply with the Quranic admonition for Muslim women (and other women of various religious orthodoxies) to dress modestly…but whose definition of modest is this? I'm all for freedom to do as one pleases and if it pleases you to dress up in a hooded sweatshirt and pajamas when going to the beach, then so be it…but if it's someone elses idea of modesty forced upon you because they think God's going to have a heart attack if you show some skin then…
I mean seriously, Does anyone really believe that God actually said, "Let there be light!" And then when he could finally see what was what, decided to create man in his own likeness and image and then created woman to be man's companion and looked at her and said, "Oh my! What have I done to my penis?!" And so then ordained (by way of male prophets) to cover up this monstrosity of his creation for all time?
What kind of fear and loathing of the human body (or of women) and the natural processes by which it survives, resides inside the brains of the men who make up these rules and regulations? And what kind of hell must the poor women who live inside these garment prisons endure?
Which then got me to thinking: Vote for Hillary Clinton to be the next President of the United States. Finally placing a woman atop the leading Democracy in the modern world just might be the best thing to happen to the people of this planet since it first began dizzily spinning on its axis…6,000 or so years ago! ( another ridiculous religious factoid undoubtedly calculated by a man, counting on his fingers, while holding onto his manhood)