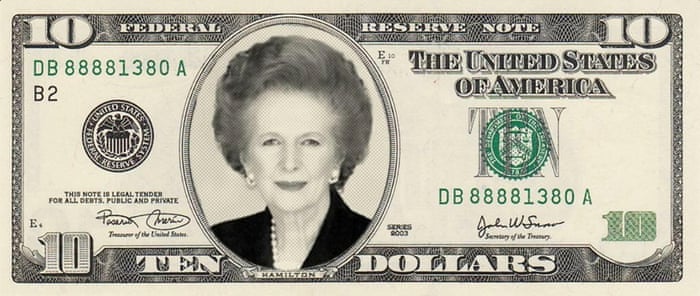 When Jeb Bush was asked which woman from American history should appear on the new ten dollar bill he answered, "Margaret Thatcher." He said that was because she worked so well with president Ronald Reagan who is considered by most Republicans to have been the greatest president who ever lived.
So great apparently is Jeb Bush's love for the former president that he can't even think of one woman from the United States' glorious historic past…or present… who could possibly represent the United States on its 10 dollar bill…not one! All he can think of is an English woman who supported and mirrored President Reagan's policies while she was the Prime Minister of Great Britain!  Mr. Bush added that it probably would be illegal and not allowed, but Margaret Thatcher would be his choice for the tenner.
Wow! That's quite a bro-mance wouldn't you say? They say that some people see stars in their eyes when they're in love but…I guess if your a woman who is an American citizen then there's probably not much that you can do to attract the good governor's attention… for he's got eyes for someone else…probably not even if you vote for him!