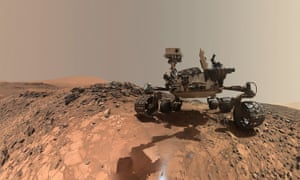 Have you heard that NASA's Mars Reconnaissance Orbiter has discovered flowing water on Mars!? And where their is water there is possibly life! And if their is life on Mars what does this say about the origins of life in our Universe? The possibilities for debates between American scientists and theologians will be endless.
NASA would like to investigate further and of course goes to great lengths to make sure that its surface probes are free of any microbial spores before they land on Mars lest they contaminate the very planet on which they are seeking life. But Of course accidents do happen and should life be discovered on Mars by the nearest NASA land probe to the possible water source on Mars, within the next few months say, you know what that will mean?
Somehow poor Hillary is going to have an awful lot of explaining to do… to an awful lot of Republican committees!